HOW MUCH TIME DO YOU SPEND WORKING UP REPLACEMENT QUOTES FOR YOUR RESIDENTIAL CUSTOMERS? 
FOR YEARS I WOULD GET HOME FROM A HARD DAYS WORK AND I WOULD HAVE TO SPEND ANOTHER 1-2 HOURS WORKING UP QUOTES AND CALLING BACK CUSTOMERS TO GIVE THEM THE PRICE. 
I HAVE NO IDEA HOW MANY JOBS I LOST BECAUSE IT TOOK ME TOO LONG TO GET THE QUOTES DONE. I WAS SO BUSY THAT I WOULD HAVE CUSTOMERS CALLING AND ASKING "HAVE YOU GOT ME A PRICE YET?" 
SOMETIMES I WOULD END UP THROWING NUMBERS TOGETHER TOO FAST AND ONCE THE JOB WAS COMPLETE I FOUND I HAD LOST MONEY! 
MY COMPANY NEEDED A BETTER WAY. 
A WAY TO PRICE JOBS WITH MULTIPLE OPTIONS QUICKLY. 
THAT'S WHEN WE WERE INTRODUCED TO A TOOL THAT SOLVED OUR PRICING DILEMMA. 
WITH THIS TOOL WE WERE ABLE TO STREAMLINE OUR QUOTES AND GET THEM TO OUR CUSTOMERS RIGHT ON THE SPOT. 
THE TOOL ALLOWED US TO:
#1. CLOSE MORE JOBS. WITH THE INSTALLATION PRICE AT OUR FINGERTIPS WE WERE ABLE TO GIVE MULTIPLE OPTIONS RIGHT THERE ON THE SPOT! 
#2. SAVE 4-6 HOURS OF WORK EACH WEEK! I WAS ABLE TO SPEND TIME WITH MY FAMILY WHEN I WAS HOME INSTEAD OF WORKING ON QUOTES FOR SEVERAL HOURS A NIGHT.
#3. COWORKERS COULD NOW GIVE QUOTES ON THE SPOT INSTEAD OF CALLING ME TO HELP WORK UP THE QUOTE. THIS SAVED A LOT OF TIME AND ALLOWED ME TO GET MORE WORK DONE. 
#4. OUR REVENUE INCREASED DUE TO INCREASED SALES, ALLOWING US TO HIRE MORE PEOPLE AND GROW THE COMPANY. 
HAVING THE RIGHT TOOLS FOR THE JOB IS CRUCIAL AND WHEN YOU FIND THE RIGHT TOOL YOU REALIZE QUICKLY THAT WORKING HARDER DOESN'T EQUAL MORE MONEY. 
YOU DESERVE TO HAVE A BUSINESS THAT PROVIDES YOU WITH MORE TIME, MORE ENERGY AND MORE MONEY. 
IF YOU FIND YOURSELF SPENDING A LOT OF TIME ON QUOTES IT'S TIME TO TAKE YOUR TIME BACK!!
I THOUGHT I WAS DOING IT RIGHT BY WORKING ALL THOSE EXTRA HOURS IN ORDER TO SELL JOBS. 
MORE TIMES THAN NOT, I FOUND MYSELF REDUCING MY LABOR OR USING A DIFFERENT DIVISOR TO LOWER MY PRICE IN AN ATTEMPT TO SELL THE JOB. 
WITH THE EQUIPMENT PRICING COOKBOOK I QUIT DOING THAT. 
THE PRICE IS CALCULATED TO EARN MONEY. IF I REDUCE THE PRICE I WOULD LOSE MONEY AND NO BUSINESS CAN STAY IN BUSINESS IF IT CONTINUES DOWN THAT PATH. 
IT HELPED HOLD ME ACCOUNTABLE TO MY PRICE. 
I QUIT DISCOUNTING JOBS AND THAT ALLOWED US TO EARN A PROFIT. 
DID YOU KNOW THAT THE ENTIRE PURPOSE OF ANY BUSINESS IS TO EARN A PROFIT? 
THE RISK OF BEING A BUSINESS OWNER IS TREMENDOUS AND WITHOUT PROFIT YOU ARE ONLY ONE MISTAKE AWAY FROM SHUTTING THE DOORS. 
THE HVAC BUSINESS IS SEASONAL. IF YOUR BUSINESS FAILS TO EARN A HEALTHY PROFIT DURING BUSY TIMES YOU WILL HAVE A VERY HARD TIME SURVIVING DURING SLOW TIMES. 
IT'S THE PROFITABLE BUSINESSES THAT SURVIVE DURING SLOW TIMES AND ECONOMIC DOWNTURNS. 
IT'S THE PROFITABLE BUSINESSES THAT ATTRACT GREAT EMPLOYEES AND DRIVE NICE VEHICLES. 
IT'S THE PROFITABLE BUSINESSES THAT PAY THE OWNER ENOUGH MONEY TO COMPENSATE FOR ALL THE RISK INVOLVED. 
BY USING THE EQUIPMENT PRICING COOKBOOK I WAS ABLE TO PAY OFF DEBT, HIRE MORE PEOPLE, PAY FOR COACHING AND TRAINING TO LEARN MORE ABOUT RUNNING MY BUSINESS, SPEND QUALITY TIME WITH MY FAMILY AND ALLOW OTHERS IN MY COMPANY TO PRICE JOBS. 
THE COOKBOOK IS ONE OF THE THINGS I HAVEN'T TALKED MUCH ABOUT AND IT'S PLAYED A HUGE ROLE IN HELPING MY COMPANY THRIVE. 
I WANT TO HELP YOUR BUSINESS THRIVE. 
I WANT YOU TO GAIN YOUR TIME BACK. 
IF I COULD'VE HAD ACCESS TO THE COOKBOOK WORKSHEETS I WOULD'VE GROWN MY BUSINESS FASTER. PERIOD. 
STOP USING FAMILY TIME TO WORK ON BIDS. STOP LOSING JOBS BECAUSE YOU CAN'T WORK UP A PRICE FAST ENOUGH. STOP DISCOUNTING YOUR PRICES. STOP GUESSING ON YOUR QUOTES. STOP WORKING HARDER. 
START WORKING SMARTER WITH THE EQUIPMENT PRICING COOKBOOK. 
IN THE COURSE YOU WILL GET:
#1. THE EXCEL WORKSHEETS DOWNLOAD OF THE EQUIPMENT PRICING COOKBOOK. 
#2. INSTRUCTIONAL VIDEO EXPLAINING HOW TO ENTER YOUR INFORMATION INTO THE COOKBOOK. 
#3. HOW TO PRINT AND BUILD YOUR BOOK. 
#4. INSTRUCTIONAL VIDEO ON USING YOUR BOOK IN THE FIELD.
PLUS.............IF YOU ACT NOW YOU WILL ALSO RECEIVE 2 BONUS VIDEOS:
BONUS #1. DOWNLOADABLE CHECKLIST OF QUESTIONS TO ASK BEFORE BUILDING OPTIONS FOR THE CUSTOMER. BUILD RAPPORT AND CLOSE MORE SALES BY ASKING THE RIGHT QUESTIONS. This bonus has a minimum of $150 value
BONUS #2. INSTRUCTIONAL VIDEO OF OVERCOMING THE OBJECTIONS TO CLOSE MORE SALES. YOU'LL ALSO RECEIVE A DOWNLOAD OF THE REBUTTALS TO STUDY SO YOU CAN GO INTO YOUR NEXT OPPORTUNITY READY TO CLOSE THE DEAL! This bonus has a minimum value of $300!
GRAB YOUR EXCEL WORKSHEETS TODAY AND LET US SHOW YOU HOW TO BUILD YOUR OWN EQUIPMENT PRICING COOKBOOK!!  
GAIN MORE TIME
INCREASE SALES
EARN MORE MONEY
GET MORE WORK DONE IN LESS TIME
SPEND MORE TIME WITH YOUR FAMILY
GIVE MULTIPLE OPTIONS QUICKLY TO YOUR CUSTOMERS
GROW YOUR BUSINESS
SPEND LESS TIME ON THE PHONE WITH EMPLOYEES WORKING UP ESTIMATES
GAIN THE ABILITY TO PRESENT OPTIONS ON THE SPOT
THE ONLY QUESTION LEFT TO ASK IS HOW WILL YOU SPEND YOUR EXTRA TIME? 
WILL YOU USE IT TO IMPLEMENT THAT NEW THING IN YOUR BUSINESS?
WILL YOU USE IT TO TAKE MORE DAYS OFF TO SPEND WITH YOUR FAMILY?
HOW WILL YOU INVEST THE ADDED INCOME TO YOUR BUSINESS?
CAN YOU SEE JUST HOW POWERFUL IT IS TO USE THE RIGHT TOOLS IN YOUR BUSINESS?
THERE ARE KEY THINGS IN YOUR BUSINESS THAT EAT UP YOUR TIME. 
BUILDING ESTIMATES FOR YOUR RESIDENTIAL CUSTOMERS IS A BIG TIME EATING MONSTER. 
STOP WASTING TIME. WITH THESE WORKSHEETS YOU WILL HAVE A TIME INVESTMENT TO SET IT UP. 
AFTER THAT YOU'RE ON THE FAST LANE! 
SO GET THIS TOOL BEFORE I TAKE IT DOWN. 
I WAS HESITANT TO SHARE THIS WITH ANYONE FOR FEAR THAT I WOULD BE HELPING OUT MY COMPETITION. 
I DECIDED THAT IT WAS WORTH SHARING BECAUSE I KNOW JUST HOW PAINFUL IT CAN BE GROWING AN HVAC BUSINESS. 
THIS TOOL TAKES A LOT OF PAIN AWAY AND NOW I WANT YOU TO HAVE IT. 
I WILL TAKE IT AWAY SOON THOUGH. THE REASON FOR TAKING IT AWAY IS BECAUSE I ONLY WANT TO HELP THOSE THAT ARE ACTION TAKERS. 
I'M NOT INTERESTED IN TRYING TO WASTE TIME HELPING PEOPLE WHO ONLY LIKE TO COMPLAIN AND NOT TAKE ACTION TO CHANGE THEIR BUSINESS AND LIVES. 
NOW IS THE TIME TO TRANSFORM YOUR SALES PROCESS BY BEING ABLE TO GIVE QUOTES ON THE SPOT AND CLOSE MORE JOBS. 
NOW IS THE TIME TO TRANSFORM YOUR BUSINESS AND GET YOUR PERSONAL LIFE BACK. 
NOW IS THE TIME BECAUSE IF NOT NOW, WHEN? 
AFTER A DIVORCE?
AFTER LOSING ANOTHER REPLACEMENT OPPORTUNITY?
AFTER LOSING TIME WITH YOUR KIDS THAT WILL NEVER BE MADE UP. 
GET THIS COURSE!!!!!
BUILD YOUR PRICE BOOK!!!!
GAIN YOUR TIME BACK!!!!
WHAT ARE YOU WAITING FOR?
THIS IS A LIMITED TIME OFFER AND WILL EXPIRE SOON. 
GRAB THIS TOOL AND TRAINING BEFORE IT'S TOO LATE!! 
IT'S YOUR OBLIGATION TO BE SUCCESSFUL. 
YOU OWE IT TO YOURSELF AND YOUR FAMILY. 
YOU OWE IT TO YOUR EMPLOYEES. 
THIS COURSE IS WORTH MILLIONS!! 
I WOULD BE GIVING IT AWAY FOR THE 
ORIGINAL PRICE OF $2500
WITH THE BONUSES THAT'S A VALUE OF $2950!!
I DON'T WANT THE PRICE TO SCARE YOU AWAY FROM GETTING THIS SO I AM CUTTING THE COST FOR A LIMITED TIME TO ONLY 
$1497---NOPE!!
NEW PRICE FOR HVAC SERVICE READY ROCKSTARS = $679
THIS TOOL WILL SAVE YOU THAT IN LITERALLY ONE WEEK. 
THIS IS ONE OF THOSE THINGS THAT COMPLETELY SHIFTED MY BUSINESS AND NOW IT'S TIME TO SHIFT YOURS!! 
GO MAKE MONEY!!
How to download your cookbook

HOW TO ENTER YOUR NUMBERS IN YOUR BOOK

HOW TO PRINT YOUR SPREADSHEETS AND BUILD YOUR OWN BOOK

HOW TO BUILD QUOTES USING THE BOOK

Questions to ask before giving the presentation
About this course
$679.00

7 lessons

0 hours of video content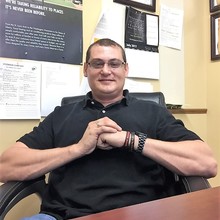 Instructor Title

Kelley McKay
Kelley has worked in residential and light commercial heating and air conditioning for over 21 years. His career as a service technician started at the age of 19 and 12 years later he opened his own company in 2008. He has hired and trained individuals who knew nothing about the industry and built them into service experts. He has written two books that are available on Amazon. "Go Make Money: A strategic guide to grow your service business into a million dollar business" and "Busyness to Business: 18 Lessons to turn your business into what you intended to create." Kelley enjoys teaching others what he's learned as a service technician as well as what he's learned owning a service business. Be sure to subscribe to his YouTube channel "hvacmillionaire" for more insights and information. 
What others have been saying about this course:
THE TIME IS NOW. YOU'VE WATCHED THE VIDEO, YOU'VE READ ABOUT THE BENEFITS THIS WILL PROVIDE, YOU KNOW IT'S TIME TO GAIN YOUR TIME BACK. LET'S DO THIS! 
You may also be interested in...