What's up HVAC Uncensored Nation!! 
In our beloved industry serving clients can sometimes be very difficult! Think about it. 
You are working on a 25 year old furnace or air conditioner and you have the problem nailed down and the repair will be $687.13. 
I just made up these numbers but sooner or later we find ourselves in this very situation. 
Now our first instinct as service professionals is to move forward, once approved by the customer, with our repair. 
This is what we do! We fix shit!! 
After all we didn't learn how to fix shit over night! It took class time and field time to be able to learn the skills that pay the bills!!!!! 
So of course, when we get the opportunity to use those skills and fix something that's exactly what we do! 
Sales is something we don't even like to consider because we have made huge investments of time, energy and money to learn the skills of diagnosing and repairing equipment. 
Now I'm gonna kick you in the nutz so be prepared……………..
 Is making a $687.13 repair best for the customer?
 I don't know what the situation is with that client so the answer could be yes????????? 
Does that mean we shouldn't go ahead and give them some other avenues?
 Regardless of what they tell us….
 " Just one more season and we'll look into replacing it"
 " We just had to put on a new roof, the car broke down, the dog died and now this…"
 " I'm not replacing my equipment" 
We hear it all don't we? On a 25 year old system future repairs are inevitable. The system components are old and worn out. 
The repair cost's go up just like the equipment cost's go up every year. There's one fact that is undeniable and that is………… It will never be less expensive than it is today! 
No matter what this is true in our current economic condition. Shit isn't getting cheaper. It's getting more and more expensive each passing year. 
Here's something else to consider……….. 
Imagine you buy a car. Then your uncle buys the same exact car! Same year, make and model. BUT!!!!!!!!!!!!!!! His has a badass stereo and a sunroof. It also has cruise control and GPS. It also has custom rims that give it a look that's sharp and tough.
 You look at his car and then look at yours and you're like WTF??? I want that! 
Why didn't I get that version of the car?
 What if you could have gotten the same upgrades, but the salesman didn't even mention them????? 
You didn't even know that you wanted that stuff until you found out about it. It's the same with repairing a 25 year old system. 
When you choose not to give options on replacement then you are making the decision for that client. 
Just like the car salesman made the decision for you on the car example. 
The car salesman did not serve you in the example I gave. Don't be this car salesman!! 
Give the options and let them choose!
 It's customer service at the highest level!! 
NOW THE HARD PART! 
Once you've served the client at the highest level and they know that it's time to replace that old POS system.
 The next hardest part is helping them make the right decision.
 1. The decision to go with you and your company. 
2. The decision to do what's best for the long term. 
3. The decision to stop wasting money on the old system that will break down again in the near future. 
In our industry we hear 3 to 4 common complaints. 
1. We want to get 3 bids.
 2. We want to think about it.
 3. I want to wait or I have to talk to my spouse. 
4. What about X brand?
 After giving options and a presentation we seem to hear the same 3-4 common complaints I just listed.
 What do you say when you hear the dreaded "I want to get 3 bids?"
 If you listened to the podcast about overcoming objections, Gil and I roleplayed (painfully lol) through several ways to overcome the objections.
 I have compiled the rebuttals for the objection "I want to get more bids" to study so that you know what to say to help your customer make a decision. Let us know which one you tried and if it helped or not!!
 Remember you can't just learn one and be done. 
Grant Cardone says that you have to have a handful to use so you can roll with the different objections and know how to overcome all of them. 
This is a collection from different people I've studied. 
I NEED 3 BIDS: EARLIER YOU SAID THAT IF YOU HAD THE COMPANY THAT HAS A HIGH REPUTATION FOR SERVICE AND GUARANTEES THAT ASSUME ALL THE RISK YOU WOULD CHOOSE THAT COMPANY. HAS ANYTHING CHANGED IN OUR TIME TOGETHER?
 I NEED 3 BIDS: YOU KNOW WE HEAR THAT A LOT. ONCE YOU GET 3 BIDS, AT THE END OF THE DAY IT STILL BOILS DOWN TO MAKING A DECISION. HOW WILL YOU KNOW IF YOU'VE MADE THE RIGHT DECISION, I MEAN WHAT IS IT YOU'RE LOOKING FOR?
 PRICE: WHEN YOU SAY TOO HIGH, ARE YOU WANTING A DOWN AND DIRTY ROCK BOTTOM PRICE OR ARE YOU TALKING ABOUT A FAIR PRICE WITH A RELIABLE COMPANY? IF YOU TALK TO MORE CONTRACTORS YOU'LL FIND THAT WE ARE NOT THE HIGHEST, WE ARE ALSO NOT THE LOWEST. WE WANT TO BE THE MIDDLE GUY. TYPICALLY THE LOWEST BID AND THE HIGHEST BID GET THROWN OUT SO THAT'S WHY WE WANT TO BE RIGHT IN THE MIDDLE, A FAIR PRICE FOR HONEST RELIABLE SERVICE. SO...WE'VE DESIGNED THE INVESTMENT FOR OUR INSTALLATIONS AT THE PRICE IT TAKES TO OPERATE AT A FAIR MARGIN SO WE CAN SERVICE YOUR SYSTEM LONG INTO THE FUTURE. 
I'M THINKING I SHOULD GET SOME MORE PRICES: THAT MAKES A LOT OF SENSE SO FROM OTHER CONTRACTORS? OK I UNDERSTAND SO I HAVE ____ OPTIONS HERE AND I'M SURE THEY WOULD QUOTE YOU THESE DIFFERENT THINGS HERE (POINTING TO OPTIONS) SO WHAT AM I MISSING IN MY OPTIONS THAT YOU ARE LOOKING FOR THEM TO PROVIDE THAT I HAVEN'T PROVIDED YET? 
INTERESTED IN CLOSING MORE SALES?
IN THIS COURSE YOU WILL RECEIVE A DOWNLOADABLE PDF TO HELP YOU CONSTRUCT A PRESENTATION THAT YOU CAN BE PROUD TO PRESENT TO YOUR CLIENTS. YOU'LL ALSO RECEIVE A DOWNLOADABLE PDF ON ASKING THE RIGHT QUESTIONS TO BUILD YOUR OPTIONS AND.............................................................
YOU'LL RECEIVE AN ADDITIONAL PDF DOWNLOAD ON OVERCOMING THE OBJECTIONS ALONG WITH SEVERAL VIDEOS ON GOING THROUGH THE SALES PROCESS!! 
THIS IS A GAME CHANGER FOR YOU AND YOUR COMPANY!! 
WITH A SOLID PRESENTATION YOU WILL CLOSE MORE SALES. IT NOT ONLY BENEFITS YOUR CUSTOMER IT ALSO BENEFITS YOU AND YOUR COMPANY. 
1. BUILD VALUE AND CREDIBILITY IN YOU AND YOUR COMPANY = CLOSING MORE SALES AT HIGHER MARGINS. 
2. DELIVER A PRESENTATION THAT SPEAKS TO THE CUSTOMER'S NEEDS AND SHOWS YOU AS THE EXPERT WHO FULFILLS THOSE NEEDS. 
3. HELP THE CLIENT MAKE THE BEST DECISION THAT WILL GIVE THEM WHAT THEY WANT.
How to Use the Mini-Course

PSYCHOLOGY BEHIND THE PRESENTATION

Congrats! Here's what's next...
About this course
$99.00

13 lessons

0 hours of video content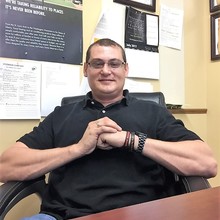 Instructor Title

Kelley McKay
Kelley has worked in residential and light commercial heating and air conditioning for over 21 years. His career as a service technician started at the age of 19 and 12 years later he opened his own company in 2008. He has hired and trained individuals who knew nothing about the industry and built them into service experts. He has written two books that are available on Amazon. "Go Make Money: A strategic guide to grow your service business into a million dollar business" and "Busyness to Business: 18 Lessons to turn your business into what you intended to create." Kelley enjoys teaching others what he's learned as a service technician as well as what he's learned owning a service business. Be sure to subscribe to his YouTube channel "hvacmillionaire" for more insights and information. 
What others have been saying about this course:
NOW IS THE TIME TO TAKE THE NEXT STEP IN YOUR CAREER OR BUSINESS WITH A SOLID SALES PROCESS! 

LEARN HOW TO OVERCOME THE COMMON OBJECTIONS WE HEAR EVERY TIME WE PRESENT THE OPTIONS!

BUILD YOUR OWN PROCESS WITH A STEP BY STEP GUIDE.  

SAY WHAAAAAAATTTTTT???












You may also be interested in...