DISCOVER THE STRATEGIES AND TOOLS TO ACCOMPLISH YOUR GOALS AND DREAMS
As a business owner you must become a leader to grow. That all starts with you. This course will not only help you transform yourself, it can also help you transform your team. A team that grows together, stays together. You can only get so far by yourself. From their you must help develop your people in your company. That goes for a team leader, a manager, a CEO and a project leader. IT ALL STARTS WITH YOU!! 
IN THIS TRAINING YOU WILL 
GAIN CLARITY IN YOUR CAREER AND PERSONAL LIFE.
CHANGE YOUR ENTIRE PERSPECTIVE OF CHALLENGES YOU FACE. 
BECOME THE PERSON YOU WANT TO BECOME. 
 HAVE THE TOOL TO KEEP YOU ON YOUR PATH WHEN THINGS DON'T GO AS PLANNED. 
UNDERSTAND AND USE MEDITATION REGULARLY. 
BECOME THE MASTER OF YOUR MIND. 
GAIN THE COURAGE NECESSARY TO OVERCOME CHALLENGES. 
UNDERSTAND WHAT'S HAPPENING IN YOUR BODY WHEN THINKING NEGATIVELY AND HOW TO SHIFT INTO MINDSET MASTERY. 
HOW TO RECOGNIZE NEGATIVE BEHAVIORS AND DEVELOP HABITS THAT SERVE YOU. 
UNDERSTAND WHAT'S BEEN HOLDING YOU BACK AND BREAK FREE. 
GAIN THE SELF ESTEEM AND CONFIDENCE TO EARN MORE MONEY.
 YOU WILL ALSO HAVE TOOLS TO USE WITH YOUR TEAM TO TRANSFORM THEIR MINDSET. THIS WILL MAKE YOUR TEAM UNSTOPPABLE. THE SKY IS THE LIMIT WITH A POWERFUL TEAM. 
You have to do the work firs, the inner work. The work that makes leaders great. The work that is necessary to lead a team. The work that will take your life to the next level. The mindset mastery work. 
Welcome! Let's get started right away! Lesson #1.

Lesson #2. How do I occur?

Lesson #3. What scares you and your perfect system

Lesson #4. ZONE OF GENIUS

Lesson #5. Personal acknowledgement

Lesson #6. I know I'm successful when

Lesson #7. Complete Clarity

Lesson #10. Physiology (controlling your body)

Lesson #11. Understanding fear/gaining courage

Lesson #13. Discipline = freedom??

Lesson #15. ACTIVE RELAXATION
About this course
$197.00

16 lessons

0 hours of video content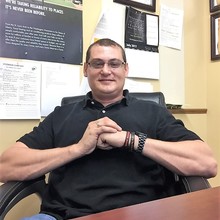 Instructor Title

Kelley McKay
Kelley has worked in residential and light commercial heating and air conditioning for over 21 years. His career as a service technician started at the age of 19 and 12 years later he opened his own company in 2008. He has hired and trained individuals who knew nothing about the industry and built them into service experts. He has written two books that are available on Amazon. "Go Make Money: A strategic guide to grow your service business into a million dollar business" and "Busyness to Business: 18 Lessons to turn your business into what you intended to create." Kelley enjoys teaching others what he's learned as a service technician as well as what he's learned owning a service business. Be sure to subscribe to his YouTube channel "hvacmillionaire" for more insights and information. 
What others have been saying about this course:
Use your Call To Action description to encourage students to sign up for your course
You may also be interested in...